Art & Design
Intent
At Thorp, we value Art and Design as an important part of the children's entitlement to a broad and balanced curriculum. We believe that high-quality Art lessons will inspire children to think innovatively and develop a creative, procedural understanding.
We aim for all children to:
Produce creative work drawing on their own experiences and ideas.
Become proficient in drawing, painting and sculpture.
Master the use of a range of tools and materials.
Critically evaluate and analyse creative work using key Art and Design language.
Know about a range of great artist, craft makers and designers, showing a good understanding of the historical and cultural development of their art form.
Implementation
During these lessons the children have the opportunities to develop their art skills and knowledge using an individual sketch book which they continue to use each year to show their progression within art. Opportunities for Artistic expression are also provided by class teachers when teaching other subject areas.
The teaching and implementation of the Art and Design Curriculum at Thorp is based on the National Curriculum and linked to subject themes to ensure a well-structured approach to this creative subject. Progression maps show clear progression of knowledge and skills being developed.
As pupils progress through the school, their knowledge and opinions of artists will develop as they are exposed to local artists including L.S. Lowry, British artists including David Hockney and Janet Bell and broadening to worldwide artists including Vincent Van Gogh, Georgia O'Keeffe and David McEown. Throughout the years, the children will get the opportunity to experiment with different art skills inspired by a variety of artists before creating their own piece of art.
During each school year, there are planned curriculum days where the children across the school are encouraged to contribute to a collaborative piece of artwork or display.
Impact
Children at Thorp enjoy the self-expression that they experience in both Art and Design. They are always keen to learn new skills and work hard to perfect those shown to them. The children's art is very often cross-curricular, and helps them to show their knowledge and understanding in History, Geography and other subjects. Children are also more aware of artists and artwork from different cultures and may develop a preference to a type of art or style during their journey through Thorp.
Due to the nature of this curriculum area, Art monitoring takes various forms. A key component of this is pupil voice; school leaders use this as an effective tool to ascertain the pupils' ability to express themselves through a range of different mediums. Sketch book monitoring throughout all year groups also takes place each half term to compliment this, allowing leaders to ensure our artists have the opportunity to develop their skills fully and showcase their talents, while also ensuring our curriculum standards are being achieved in each year group.
Curriculum Road Map
Knowledge Organisers
Year 1
Year 2
Year 3
Year 4
Year 5
Year 6
Pictures
Summer Art Showcase 2023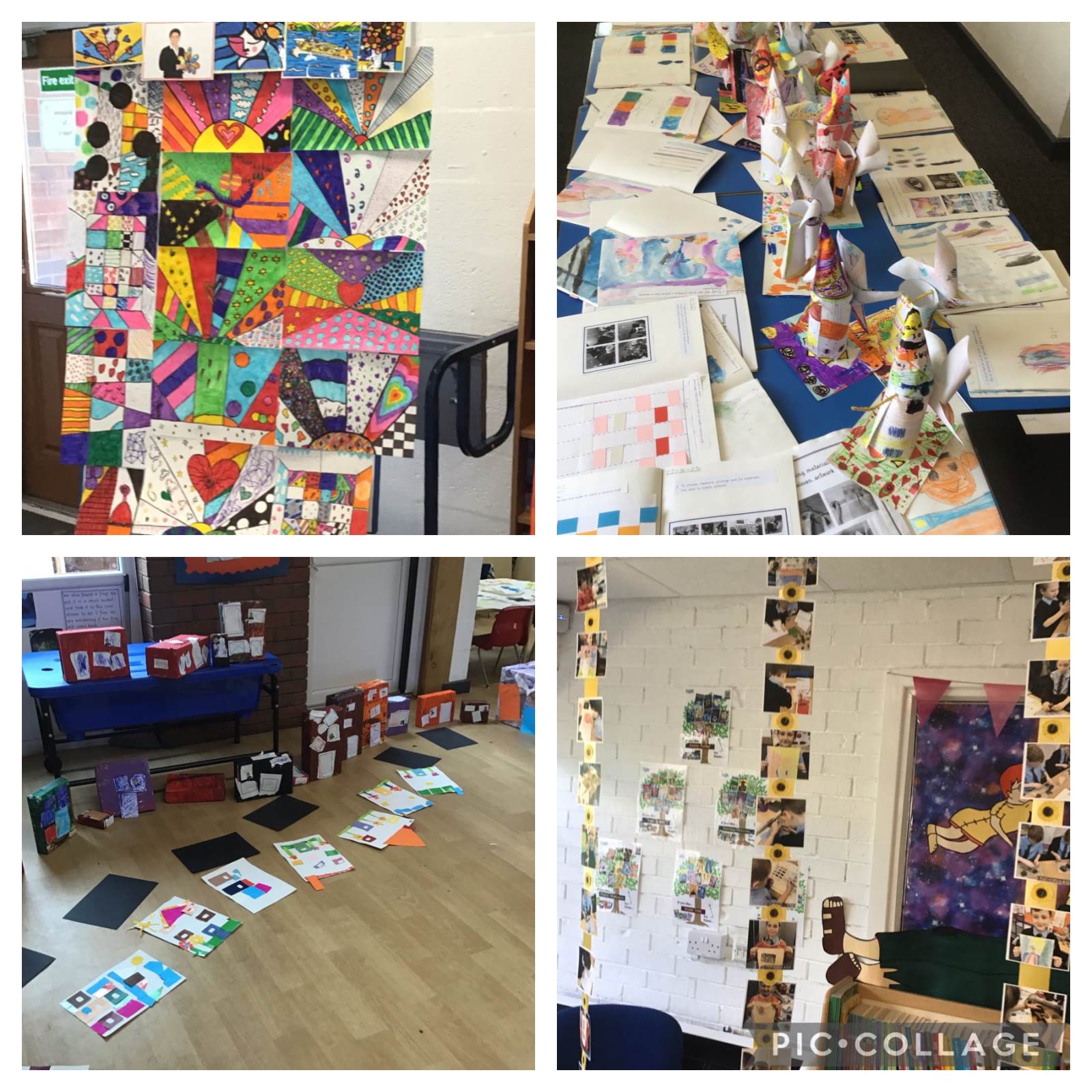 Year 3 Art Trip to Oldham Gallery - 15.5.2023
Year 3 enjoyed their trip to the Oldham Gallery, they explored the gallery, searching for natural and man-made patterns found in artwork, animals and other artefacts. After finding and sketching a variety of patterns, the children designed their own pattern and printed it onto their own material.
e